Abandoned High Arctic Weather Station Mould Bay on Prince Patrick Island, Nunavut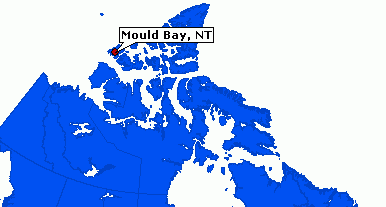 The High Arctic Weather Station Mould Bay is situated on Prince Patrick Island on the west side of Crozier Channel opposite Eglinton Island.
Prince Patrick Island is surrounded year round by ice and is one of the most inaccessible places in Canada. Such severe sea ice conditions make air travel the only means of transportation to and from the site. The island is also seismically active.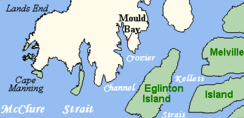 Mould Bay was opened as a weather station in 1948 by a joint American/Canadian military project. On April 11th. of that year a United States air lift was carried out from Resolute with 3 station personnel and basic supplies.
The Americans withdrew from the site on November 2nd. 1971. The station supported a group of 10 to 40 employees over the years of its operation.

Building at Mould Bay
In 1961 what now is the Geological Survey of Canada under the Geomagnetism Program established a combined magnetic and seismic observatory at the Mould Bay site.
The site was upgraded in 1975 and again in 1985. The last manned weather observations were taken at the site on March 31, 1997. Today an automated weather observation system operates at the station, with its location near the air strip.
For current weather conditions for Mould Bay from Environment Canada's Weather office, click here.

Mould Bay Landscape
Author Ian Cameron wrote a work of fiction about Prince Patrick Island in 1961 entitled, "the Lost Ones".
Walt Disney Pictures turned it into a film in 1970, "The Island at the Top of the World".
Both tell a story of a lost colony of Vikings living in a remote valley at the centre of the Island that is habitable because of warmth provided by a volcano.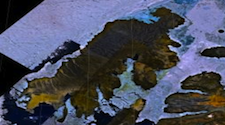 Prince Patrick Island Satellite Image

Return from Mould Bay to Home Page
Return from Mould Bay to Arctic Weather