Arctic Weather Station at Resolute Bay. In Inuktitut, Qausuittuq, "place with no dawn".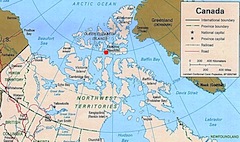 Map of Northern Canada with Resolute Highlighted
The High Arctic Resolute weather station located on Cornwallis Island was established by a joint effort of the Canadian and United States Governments on August 31, 1947. The United States Air Force also built an airfield. A little later the Royal Canadian Air Force developed and maintained an air base.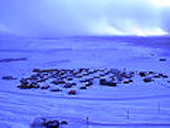 Resolute Bay in Winter, Aerial View
On April 1st. 1964 operations were handed over to Transport Canada. The last Americans departed the Resolute Weather Station in 1972. And on April 1st. 1995 the Government of the Northwest Territories took Control. The station has also operated an Ozone measuring and monitoring program since 1957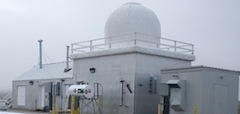 Resolute Weather Station
Resolute Bay is also home to the Polar Continental Shelf Project, known as the PCSP. PCSP facilities in Resolute serve as a launching pad for scientists carrying on a multitude of scientific work in the North to help us understand better the Northern environment, it's changes, and our impact on that change. This facility is fully equipped with, ATV"S, Satellite phones, kitchen and dining area's, recreation rooms, tent's and sleeping quarters.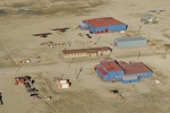 PCSP Facility Resolute Bay, Ariel View
The PCSP in Resolute is scheduled for an $11,000,000 expansion to it's facilities, which include some 11,000 square meters of space. This space will house new..

• 35 single occupancy bedrooms
• recreation area
• meeting rooms
• fitness room
• research lab.
• kitchen and dining room

This is truly a world class facility that Resolute Bay and all of Canada can be proud of.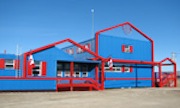 PCSP Facility Resolute Bay, Ground View
PCSP is a part of Natural Resources Canada and supports over 1100 scientists annually in many research projects all across Canada's North. For more information on the PCSP program click on the photo link below.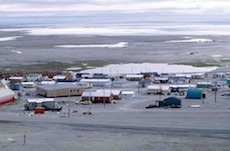 Resolute in Summer


Share your adventures from Resolute Weather Station
Do you have a great story from your stay or visit to Resolute? Share it with others!
Upload your favourite pictures as well.
Return from Resolute Weather Station to Home Page
Return from Resolute Weather Station to Arctic Weather