Abandoned High Arctic Weather Station, Isachsen on Ellef Ringnes Island, Nunavut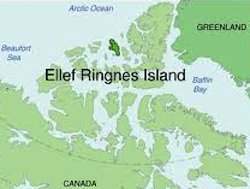 Ellef Ringnes Island, location of Isachsen Weather Station
In the Arctic it doesn't get any more remote than where the Isachsen Weather Station was. Located on the western shore of Ellef Ringnes Island in the Queen Elizabeth Islands Group, the station was located in one of the harsher regions of the Nunavut Territory. Isachsen Weather Station was named after the Norwegian Arctic explorer Gunnar Isachsen.
According to David Phillips in the Canadian Encyclopedia, Environment Canada has placed the Isachsen area at 99 out of a possible 100 on the CSI or Climate Severity Index, making it the place with the worst weather in Canada. Read more on the Climate Severity Index rating system here.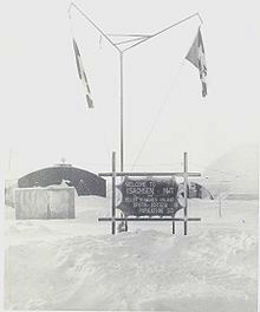 Isachsen Welcome Sign
Isachsen weather station began operations on April 3, 1948, it was the third station in a joint initiative by the Canadian-American weather observation program. On October 31st. 1971 the Americans withdrew from the site at Isachsen.
Staff at the station were usually comprised of 8 to 12 men where all supplies were airlifted in from Resolute on Cornwallis Island. The airlifts including barrels of fuel and all consumables. Airlifts usually took place twice a year, once in the spring and once in the fall.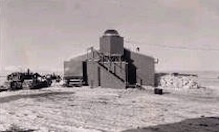 Isachsen Weather Station in Winter, Circa 1957
On October 9, 1949 a United States Air Force C-47 cargo plane crashed on take off, there were 10 people on board, all survived with just 3 of the flight crew having minor cuts and bruises.
Cause of the crash was blamed on overloading and a build up of ice on the aircraft. With average temperatures from -32'C to -51'C during this time of year, ice build up could indeed be a problem.
The Isachsen area experiences about 3 months of complete darkness each year starting in October.
The wreckage of the aircraft remains at Isachsen to this day. More information on the crash can be found on the Old Wings site at this link.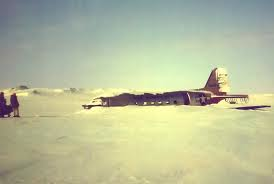 Crashed C-47 Cargo Plane at Isachsen
During the summer of 1958 the Isachsen weather station was rebuilt using material, buildings and personnel that had been transported to the site by airlift.
In 1977 the Canadian Government spent significant funds on upgrading the facility but in 1978 due to budget constraints the facility was closed permanently. The last manned weather observations were taken on July 31, 1978.
The station then started operating remotely sending information from unmanned automated instruments via satellite.
Historical weather information from the Isachsen station can be found at this Weather Network link.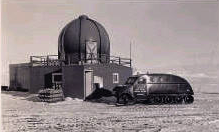 Isachsen Winter Scene with Snowmobile, Circia 1957
Do you have a memory from Isachsen to share with others?
Extreme Weather
Long Hours, Days, Weeks, Months
The C-47 Cargo Plane Crash

Share you Memories and Pictures.

Or maybe a visit to the site more recently.

Keep the memories alive!
What Other Visitors Have Said
Click below to see contributions from other visitors to this page...

Executive Officer Not rated yet
I was XO at Isachsen; 1964-1965. Several of the staff: OIC-Red Donnelly, Bert Formisevich(sp) Met. Tech., Jay Gatlin Eltech, Scotty MacDonald, …


Return from Isachsen to Home Page
Return from Isachsen to Arctic Weather